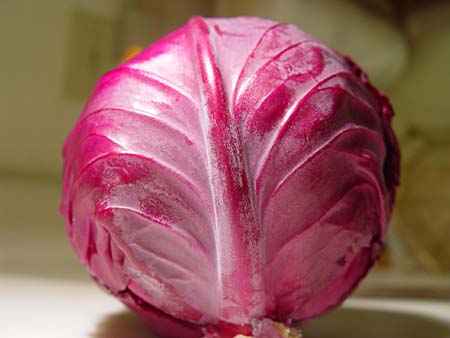 This past weekend I had a Thanksgiving reunion with some former roommates from college, a tradition we have every year since our graduation in 2007. Everyone brings a dish (my friend Ali prepares the Bird and hosts the party). My old standby is a braised red cabbage, a simple, healthy dish that always gets rave reviews. My dad always prepares this for our Thanksgiving and Christmas celebrations as a symbol of the types of food his mother and Czech-born grandmother would make in his youth. He adds bits of bacon to give it a rich flavor, but my vegetarian-friendly version of the recipe (some of my friends are vegetarians) omits the bacon and still maintains a rich flavor. Red cabbage is chock full of vitamins and can really boost your immune system (which I need as I currently have a mother of a cold).
Here's my recipe for braised red cabbage (makes about 8 servings):
1 medium-sized head of red cabbage
2 Tablespoons of olive oil
1 medium-sized onion
1/3 of a cup apple cider vinegar
1 Tablespoon light butter (like a
Brummel and Brown
)
Salt and pepper to taste
Directions:
Sautee
the onions and olive oil in a large (preferably deeper) sauce pan until the onions are browned (about five minutes). Wash and chop up the cabbage and add it to the pan with the apple cider vinegar and butter.
Sautee
ingredients until cabbage is soft and flavorful. Add an amount of salt and pepper to your liking. Serve warm.
Bon
appetit
!

Image found here and here.